Herend
Figurine
#

MACV--05309-0-SET

IMPERIAL FOO DOGS Limited Edition Size = 250 With their origins in China, Herend's Foo dogs are the perfect models to be dressed in the dramatic Chinoiserie pattern called Macao. This pattern first made its debut at the 1904 St. Louis World's Fair where it, among other patterns on display, led to the Herend manufactory winning a gold medal. The saturated tones of Macao are due to the fact that the pattern is painted in enamel colors. Enamel painting is a very difficult process in that the enamel has a unique density and more layers than normal are applied to create the rich pigmentation. However, it is a balancing act of beauty versus technical constraints because if one layer is applied unevenly, it can prevent the paint from adhering to the piece. Therefore, only seasoned artists, with their skills and knowledge, are entrusted with working with enamel colors.
Product Details
| | |
| --- | --- |
| Stock Number | MACV--05309-0-SET |
| Department | Giftware |
| Type | Figurine |
| Collection | Reserve Collection |
| Material | Porcelain |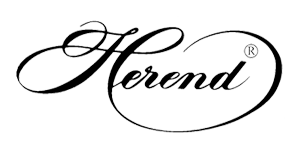 Herend hand crafts porcelain dinnerware and home accessories adorned in a variety of hand painted patterns. Favorite patterns in the U.S. include Queen Victoria, introduced in 1851 and named for her royal majesty after she purchased a large set for Windsor Castle; Rothschild Bird, created for the European banking family in 1860 to portray a legend about Baroness Rothschild losing her pearl necklace in the family garden; and Chinese Bouquet, designed in 1930 for Hungarian Count Albert Apponyi . From the very beginning, Herend's animal figurines painted in a fishnet design took the U.S. by storm. Now, over 50 years later, the ranks of enthusiasts clamoring for figurines in the signature Herend fishnet pattern continue to multiply.